The American Pediatric Society Honors Dr. David G. Nichols with the 2022 David G. Nichols Health Equity Award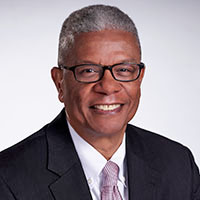 HOUSTON, February 1, 2022 – The American Pediatric Society (APS) is pleased to announce David G. Nichols, MD, MBA as the inaugural recipient of the new David G. Nichols Health Equity Award.
The David G. Nichols Health Equity Award, administered by the APS and endowed by the American Board of Pediatrics (APB) Foundation, was created to recognize demonstrated excellence in advancing child and adolescent health, well-being, and equity through quality improvement, advocacy, practice, or research. This award recognizes Dr. Nichols' outstanding contributions to advancing child and adolescent health, well-being, and equity and the far-reaching impact of his work. The award will be presented to Dr. Nichols during the APS Presidential Plenary at the Pediatric Academic Societies (PAS) 2022 Meeting in Denver, April 21-25.
Before his retirement in December 2021, Dr. Nichols served as the President and CEO of the American Board of Pediatrics since 2013. He has been a member of the APS since 2015 and held volunteer appointments with the ABP since 1995. Dr. Nichols' 25 years of service at the ABP  was marked by an unwavering focus on the ABP's mission to advance child health by certifying pediatricians who meet standards of excellence and are committed to continuous learning and improvement. In 2020, as part of the ABP strategic planning, Dr. Nichols and the ABP Board of Directors committed to embedding diversity, equity, and inclusion into the internal and external work of the ABP and its Foundation and established metrics for their accountability.  A visionary change agent known for leading with integrity and compassion, Dr. Nichols advanced numerous innovations at the ABP, including MOCA-Peds, an online, non-proctored longitudinal assessment of pediatric medical knowledge completed by pediatricians quarterly. In 2021, MOCA-Peds received the Innovator Award from the Institute for Credentialing Excellence and was recognized as a transformative and replicable approach with the potential for systemic impact.
"Dr. Nichols, throughout his career, has demonstrated what this award stands for," said Judy Schaechter, MD, MBA, President and CEO of the ABP. "We were pleased to endow this award on such a critical topic and are thrilled that David was chosen as the inaugural speaker."
Prior to Dr. Nichols' tenure as leader of the ABP, he was a specialist in pediatric intensive care and educator at Johns Hopkins for nearly 30 years. At Johns Hopkins, Dr. Nichols was the director of the hospital's Pediatric Intensive Care Unit, director of its Division of Pediatric Anesthesia and Critical Care Medicine, and Vice Dean for Education. Dr. Nichols completed his bachelor's degree from Yale University and received his medical degree from the Icahn School of Medicine at Mount Sinai, followed by an internship and residency at Children's Hospital of Philadelphia. His MBA was completed at The Johns Hopkins University Carey Business School.
"We are truly delighted to honor Dr. Nichols with the inaugural David G. Nichols Health Equity Award for his legacy of diversity, equity, and inclusion in child and adolescent health," said Mary Leonard, MD, MSCE, President of the APS and Professor and Chair of the Department of Pediatrics at the Stanford University School of Medicine. "Dr. Nichols' career and leadership exemplifies the power of quality improvement to make a difference in advancing child and adolescent health, well-being and equity and addressing the tremendous impact of systemic disparities. Honoring Dr. Nichols with this award is an important way to help others learn from exemplar leaders and to be empowered to be change agents to make the quality improvements essential to address inequity."
###
About the American Pediatric Society
The American Pediatric Society is a nonprofit organization, established in 1888, to advance child and adolescent health and well-being by shaping the future of academic pediatrics through an engaged, diverse, inclusive, and impactful community of pediatric thought leaders. The society's work includes the promotion of pediatric research, recognition of achievement, and cultivation of excellence in pediatric advocacy, scholarship, education, and leadership development. To achieve its mission, the society engages in implementing programs that work to eliminate structural inequities such as racism, social injustice, and sexism. For more information, please visit aps1888.org, and follow us on Facebook and Twitter.
Media Contact:
Lisa Thompson
Association Director
American Pediatric Society
(346) 258-6247
lthompson@aps1888.org