The American Pediatric Society Honors Dr. Sherin U. Devaskar with the 2021 APS John Howland Award
Distinguished pediatrics leader is recognized for her significant contributions to advancing child health and the profession of pediatrics.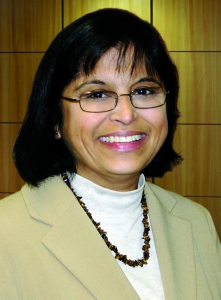 HOUSTON, Nov. 2, 2020 – The American Pediatric Society (APS) is pleased to announce Sherin U. Devaskar, MD, as the 2021 APS John Howland Award recipient, the highest honor bestowed by the APS. The prestigious award signifies the society's recognition of Dr. Devaskar for her significant contributions to advancing child health and the profession of pediatrics. The award will be presented to Dr. Devaskar on May 3 during the APS Presidential Plenary at the Pediatric Academic Societies 2021 Virtual Meeting.
The APS John Howland Award was created in honor of clinician-scientist John Howland, MD. Since 1952, the annual award has recognized individuals for their distinguished service to pediatrics.
Dr. Devaskar is Distinguished Professor of Pediatrics, Mattel Executive Endowed Chair of the Department of Pediatrics at the David Geffen School of Medicine at UCLA. She is the Physician-in-Chief, UCLA Mattel Children's Hospital and Assistant Vice Chancellor of Children's Health, UCLA Health. She is also the Executive Director of the UCLA Children's Discovery and Innovation Institute.
Dr. Devaskar is well known nationally and internationally for her impressive research portfolio, which focuses on the impact of prenatal and postnatal dietary modifications both on epigenetic mechanisms affecting macromolecular nutrient transport and metabolism across the placenta and on fetal/neonatal brain development. Most importantly, she has demonstrated a long term and transgenerational impact of prenatal nutritional aberrations employing a variety of novel models, which is leading the way into the development of breakthrough diagnostics.
"We are truly delighted to honor Dr. Devaskar with the 2021 APS John Howland Award for her outstanding contributions to pediatrics through her outstanding leadership, her major research contributions especially in neonatal medicine, and her tireless work in education, training, and advocacy," said APS President Steven Abman, MD. "Her work throughout all arenas of academic pediatric medicine has made a significant impact on improving the health and well-being of our children and their families.  Importantly, Dr. Devaskar has been an outstanding mentor, role model and supportive colleague for so many of us in pediatrics. Her vision, enthusiasm and effective leadership has had wonderful and long-standing effects throughout pediatrics."
Dr. Devaskar has dedicated her career to academic development and focuses on supporting and mentoring fellows and junior faculty interested in becoming physician-scientists or clinician-researchers. Her vision as a leader impacts pediatrics on all levels. She has held numerous leadership roles in the past and at present and is, at times, the first to bring programs to fruition at her home institution. One such example is the establishment of a Diversity Committee in the Department of Pediatrics, the first at UCLA. By creating this program, Dr. Devaskar has made diversity and inclusion a goal and is creating a culture with child health at the fore.
For more information about Dr. Devaskar and the APS John Howland Award, please visit the APS website.
###
About the American Pediatric Society
The American Pediatric Society (APS) is a nonprofit organization founded in 1888 as the first pediatric society in North America. The mission of the APS is to shape the future of academic pediatrics through engagement of distinguished child-health leaders to represent the full diversity within the field.  The 1,800 plus members of APS are recognized leaders of extraordinary achievement who work together to shape the future of academic pediatrics. For more information, please visit aps1888.org, and follow us on Facebook and Twitter.
Media Contact:
Lisa Thompson
Association Director
American Pediatric Society
(832) 371-6143
lthompson@aps1888.org